If it's a party there is probably going to be a photo display of some sort.
The hallway outside the main room at Rolling Hills Country Club in Golden Colorado was the perfect place to feature photos of the beautiful grad. I hung photos from the wall sconces with black jute and gold glitter blasted clothes pins.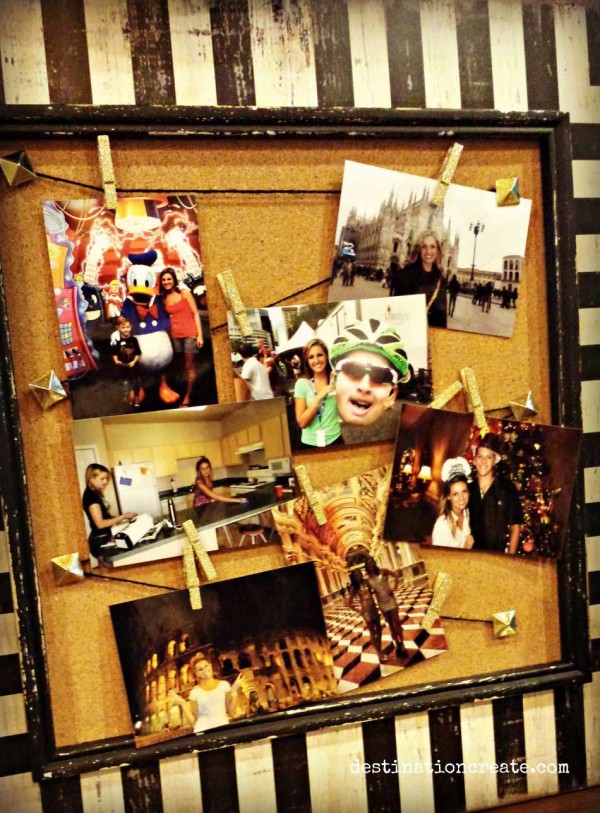 I found these fabulous bulletin boards at Hobby Lobby… half price of course. I added large upholstery tacks in a criss-cross pattern and strung black jute between the tacks. Then I sprayed Krylon Glitter Blast

and hung the photos with them. Gold Dollar Store frames got a blast of glitter too for more bling.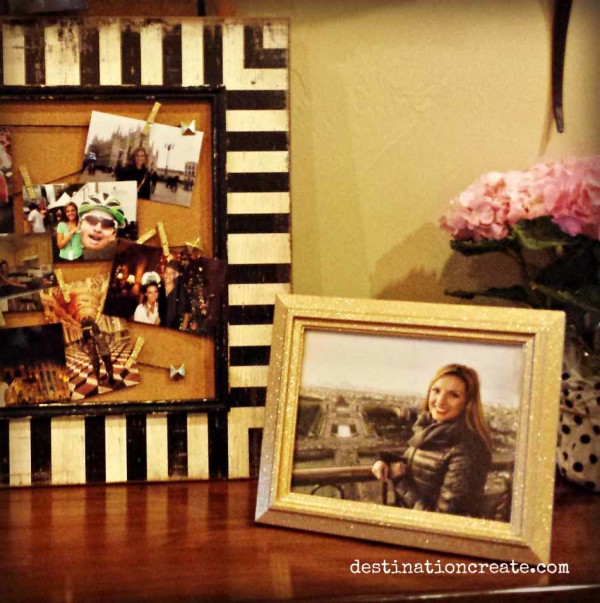 A couple of weeks before the party the guest of honor's grandmother died. They had been very close and we wanted to honor grandma in a special way. The graduate emailed me a bunch of fond memories that she had of her Bambi… love that nick name. I chose a few and printed them in circles just the right size to punch out with my favorite 3 1/2 inch circle punch. I am often lucky in shopping and my luck held when I found this white bulletin board in the clearance section at Hobby Lobby… gold circles painted on the cork? How perfect is that! This memorial photo display was super easy to put together and it meant so much to the family.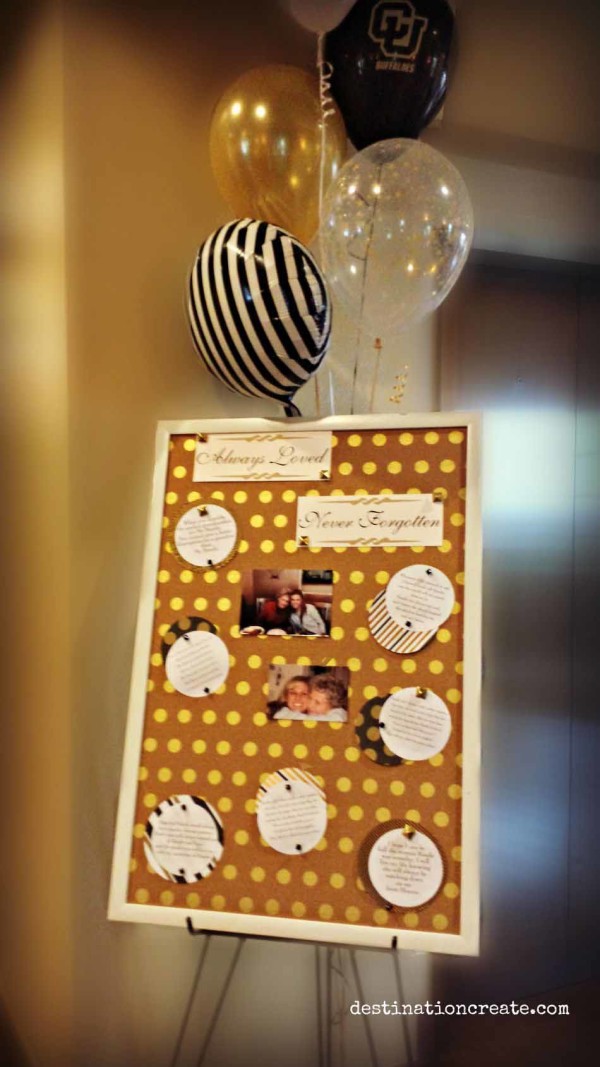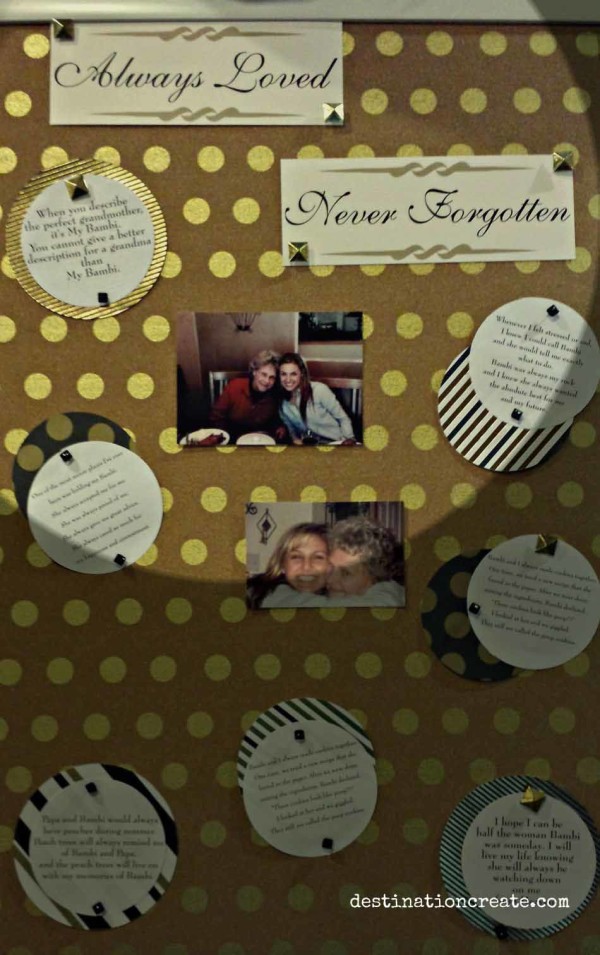 Of course there would be cards & cash… where to put them? Had to be cute, had to match the decor. I just love this galvanized metal box with chalkboard panel. Galvanized metal is one of my "go to" materials for any kind of event… it can be dressed up or down and I'm mad for it!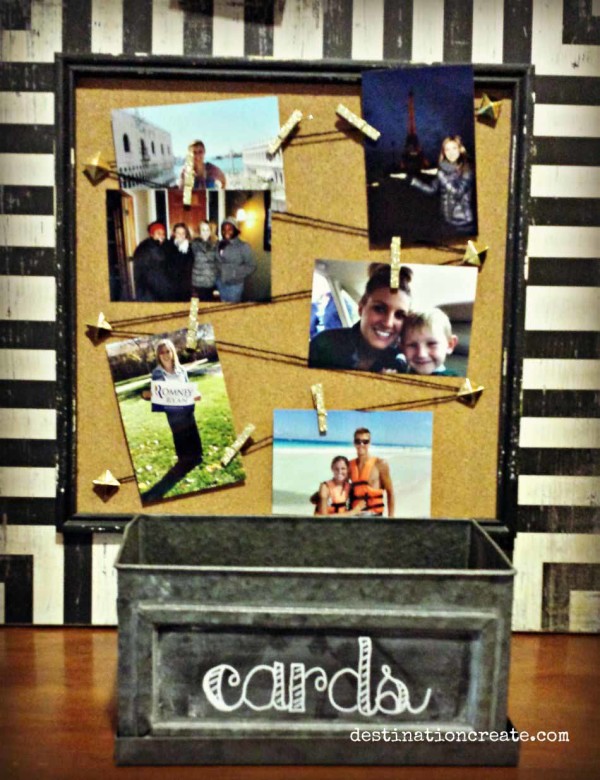 A few weeks before the party my client called and said " I think we need more! More bling, more flowers… more!" So I went shopping to look for more. I ended up adding some signs among other things. They took very little time but added a bit of fun. I found white framed chalkboard signs and simply added gold puffy stickers to spell out words like "Hooray" and "Go Buffs".
The sticky backing on the stickers won't hold so be sure to use some hot glue to make them stay.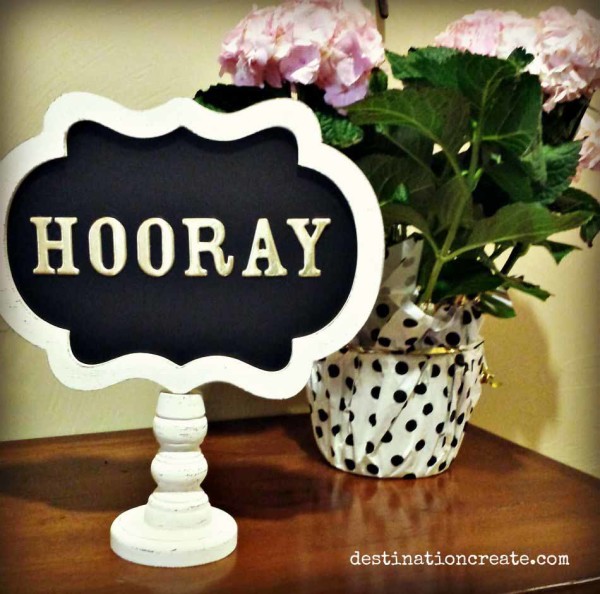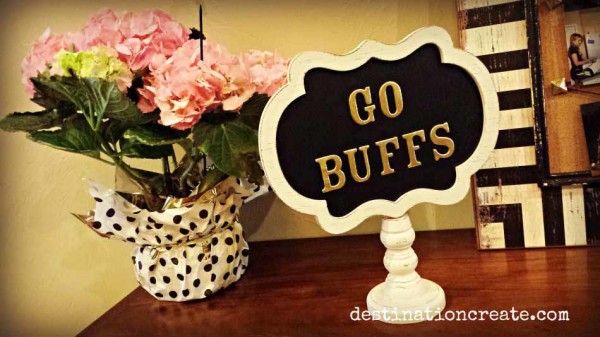 There will be more posts to come about this party… Here's a sneak peek!