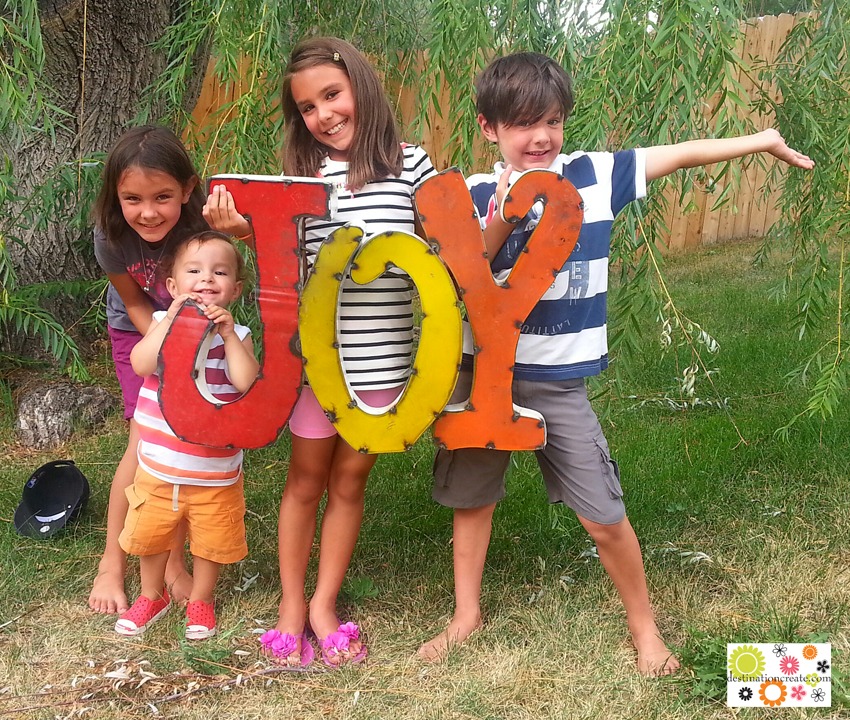 They say that money can't buy happiness and I believe this is true, but perhaps money can buy a bit of JOY? Look what I found at TJ Maxx for $12.99! I've seen these soldered metal letter signs at outdoor markets for $60-$75. I just love off-price shopping, the thrill of the hunt, the unexpected treasure.
I'm especially glad that this sign is fashioned in colors that are appropriate year round. I had it up all summer on my front porch and will happily display it again Christmas time.
But seriously, I do think that joy is a deeper more fulfilling and less fleeting emotion than happiness.
Here's a bit of my Happy List:
Halloween
dark chocolate
ice cream
dining al fresco
bacon and hash browns
going to the movies
losing 2 pounds
a new outfit
steak and baked potato with everything on it.
going to the theater
Here's a bit of my Joy List:
My family. It has brought me great joy to watch my four girls grow and mature and start families of their own. And what a great joy and blessing it is to have them all live within 20 minutes.
My parents and siblings. We truly like each other and it is with great JOY that we gather together for meals, family fun and memory making.
Grand kids. I have 11. Their love is pure and watching them grow is a delight.
Good friends. I have learned so much from the love and example of great friends and will continue to learn from them. Friends enrich my life.
The Lord. I am richly blessed and know all that is good in my life comes from Him.
Autumn. All of God's creations are marvelous to behold but Autumn holds a special place in my heart.
A job well done. After week and months of planning, designing and executing an event it is a JOY to see all that hard work culminate in the event that I envisioned.
Gardens. Over the years my gardens and flower pots have brought me much JOY as I plant, anticipate, harvest, deadhead and enjoy the fruits of all that effort.
Walks with my Mom and sisters. An early morning walk is the perfect opportunity for some intimate and heartfelt conversation.
I could go on but I invite you to share what brings you JOY. Feel free to comment and please post photos of what gives you joy on my Pinterest board titled JOY.