Welcome!
I'm thrilled that you stopped by.
You're here for the Valentine twig arrow tutorial right? Well here it is… just in time for Valentine's Day.

Have you ever accidentally shrunk one of your favorite wool sweaters in the wash? Well I have and it was such a bummer… I really didn't mean to throw it in the wash. When I pulled out that load of darks and saw my favorite red wool sweater I could have cried. I think the clothes had actually even been washed in cold water but it's the AGITATION, don't you know, that FELTS the wool.
The upside of this tragedy is that I ended up with a beautiful piece of red wool felt perfect for crafting. While cruising Pinterest one day, I found the perfect project for my red wool. I can't claim credit for the original idea but I will happily pass it on to you. I made a couple dozen of these charming Valentine twig arrows to give away as valentine gifts and as favors at a Valentine brunch that I designed for a client. Thanks to my stash of felted sweaters I was able to go crazy and make several colors. if you don't want to hunt thrift stores for wool sweaters and then take the time to felt them yourself you can always buy wool felt at your favorite craft store.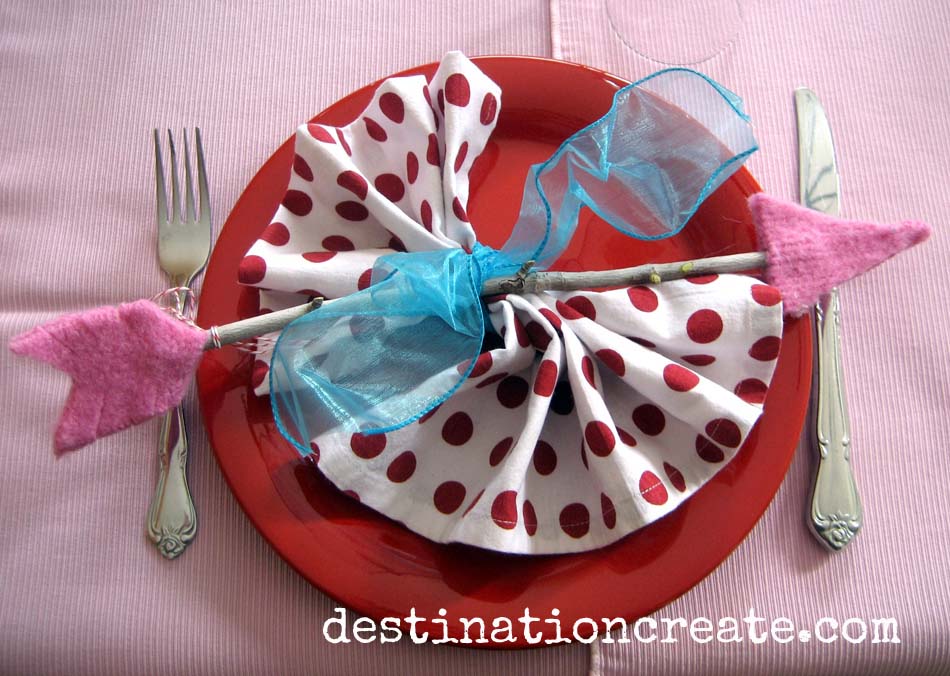 So here's the tutorial. Go out in your yard and gather up some twigs so you can enjoy crafting these delightful twig arrows.
[WPBR template_name="custom-template" template_id="4614″/]

What you need:
twigs (about 12″ long)

thick felt (wool felt or a felted 100% wool sweater)

bakers twine

hot glue gun

fabric scissors

template for felt pieces
[WPBR template_name="custom-template" template_id="4614″/]
Step 1: Print out the felt pieces template on card stock. Cut 2 arrow points and 2 fletching pieces from the felt for each arrow.
Step 2: Sandwiching the twig between the two arrow points, hot glue an arrow point on each side of the narrowest end of the twig.
Step 3: Repeat step 2 for the fletching pieces. Hot glue the fletching pieces to the thicker end of the twig.
Step 4: With fabric scissors, snip the fletching at an angle to look like feathers.
Step 5: Tie a bow with a double strand of bakers twine just above the fletching.

If you want to make your own felt here's how to do it. Hit the thrift store and buy a 100% wool sweater in a color you like. It MUST be 100% wool! Superwash wool will NOT felt. Cashmere may or may NOT. Throw the sweater in your washing machine with just a small amount of liquid laundry soap. Wash at the longest setting in HOT water. DO NOT let the rinse cycle start until the sweater is felted as much as you want. The AGITATION is what felts the wool. After one wash cycle you may need to put the sweater through additional wash cycles. I've repeated the process up to three times for some sweaters. Once the sweater is felted to your liking go ahead and let the rinse cycle run. I dry the sweater laying it flat. You can experiment with drying the sweater in the dryer on HIGH. You'll need to decide which result you prefer.
That's it! This is a super easy craft. Once you have your materials, you can whip up a dozen or more Valentine arrows in no time. They would look so sweet tucked into your Valentine decor and they make a unique gift for special friends and family… and NO CALORIES!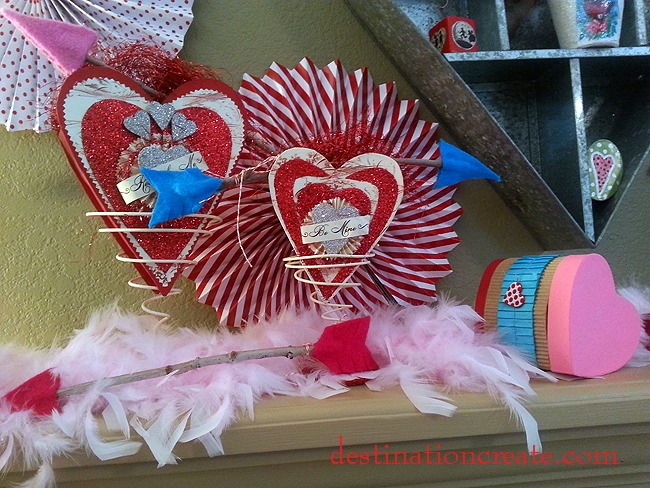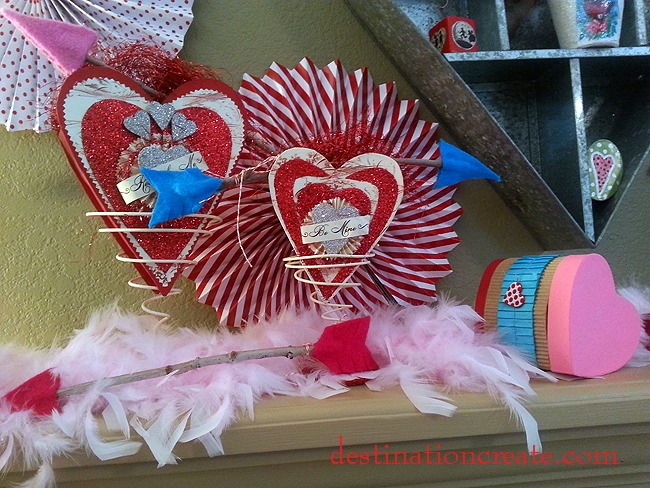 Stop, Breathe & Create some adorable Valentine Twig Arrows!

Please Click this little +1 button to tell Google you liked what you've read. Thank you!