You've seen them… the ubiquitous plastic sleeved flower bouquets at the grocery store or your favorite warehouse store. They look so pretty and they're so cheap! You grab a bouquet and throw it in your cart on top of the toilet paper. You get it home and throw it in some water. Now what? How do you arrange these flowers so they look as pretty when your perfect, creative  best friend arranges them? The answer- don't just take the flowers out of the sleeve them and dump them "as is" in a vase of water!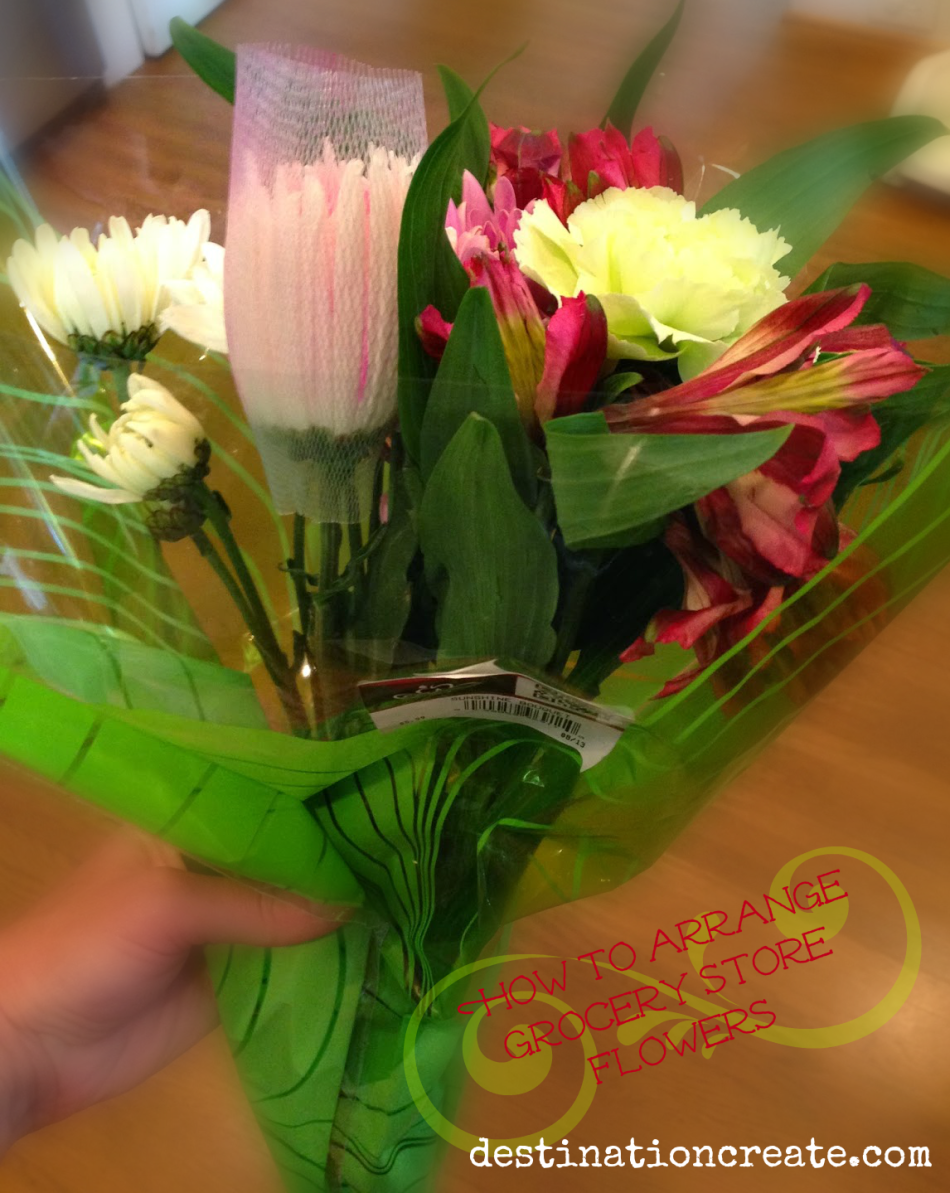 First  things first-
PREP

the flowers as soon as you get home! OK… you can put the ice cream away first if you want. Private Selection brand is my favorite!
1. 

Take flowers out of the sleeve. Strip each stem of leaves that will be below the water line in your vase. Make a fresh cut at a slant at the bottom of each stem.
2. 

Place flower stems in a container of cool water with some flower food until you are ready to arrange them. If you don't have any flower food on hand the bouquet didn't come with the little packet just add 1-2 tsp sugar.
---
Next is the part that will make or break your arrangement choose the right vase. Pay attention to whether the vase opening is going to let the flowers fall outward or is it going to keep the stems straight? Is the vase too big for the amount of flowers you have. Do the flowers lend themselves to a tall arrangement or a short arrangement?
For the purposes of this post I'm going to show you one option for a simple flower arrangement that only requires a few stems and some limes or lemons, which are also cheap at that big warehouse store! The problem with those grocery store bouquets is often there aren't really enough flowers to make a nicely designed arrangement. There might be say,  2 sunflowers, 1 dahlia, 2 stems of button mums, a bit of purple statice, and a few sprigs of varied greenery.
I needed to design an economical and simple centerpiece for a client that was lovely but not over the top. I found a bouquet at Costco for $14.99. It had 1 protea, 3 gerbera daisies, 2 stems of kermit button mums, some purple statice, 1 stem of red hypericum and some seeded eucalyptus.
Take a look at what I came up with.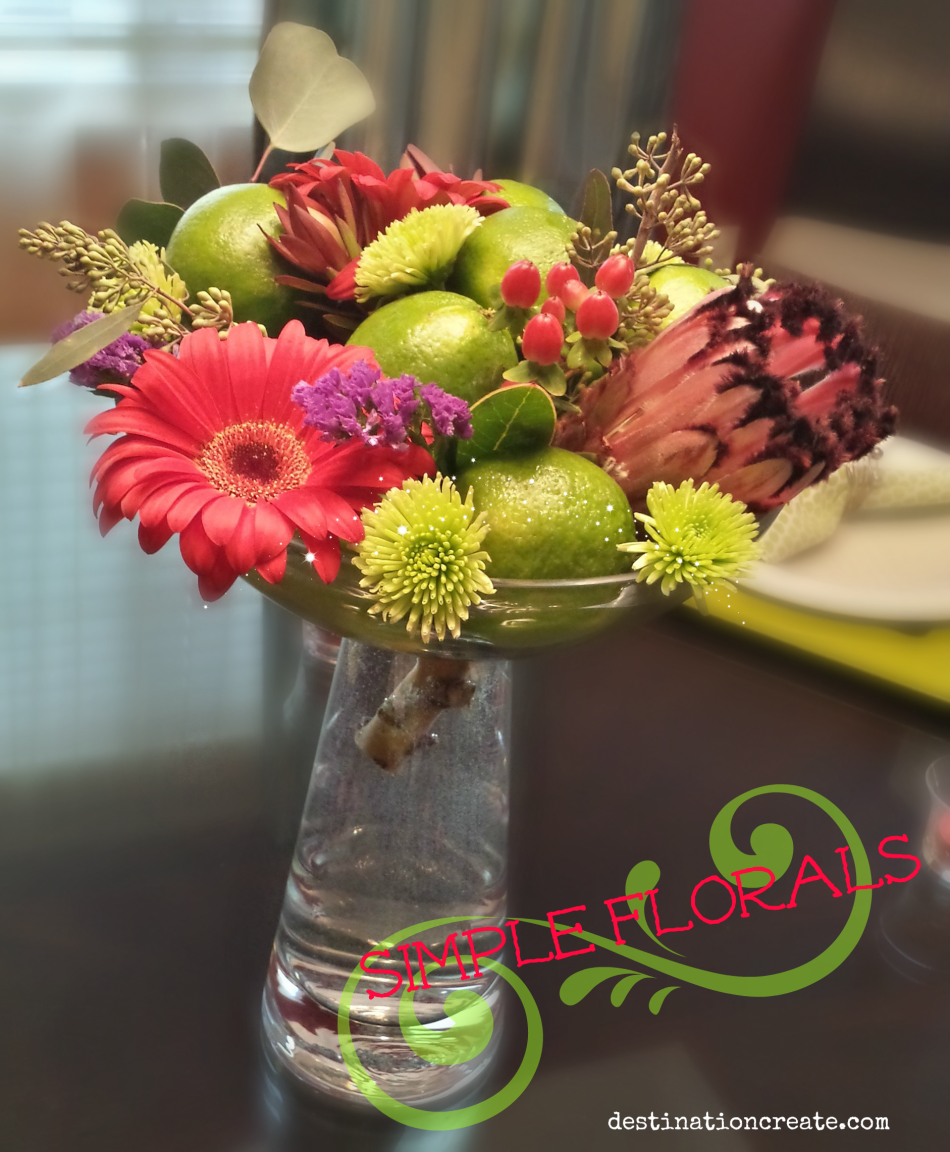 By mounding limes in the vase I could place a rather odd assortment of blooms among the fruit and end up with a modern, minimalist centerpiece. I could have also put limes in the hollow stem of the vase but I wanted to buy just one bag of limes to keep costs down.
Another version of this same arrangement calls for only three gerbera daisies.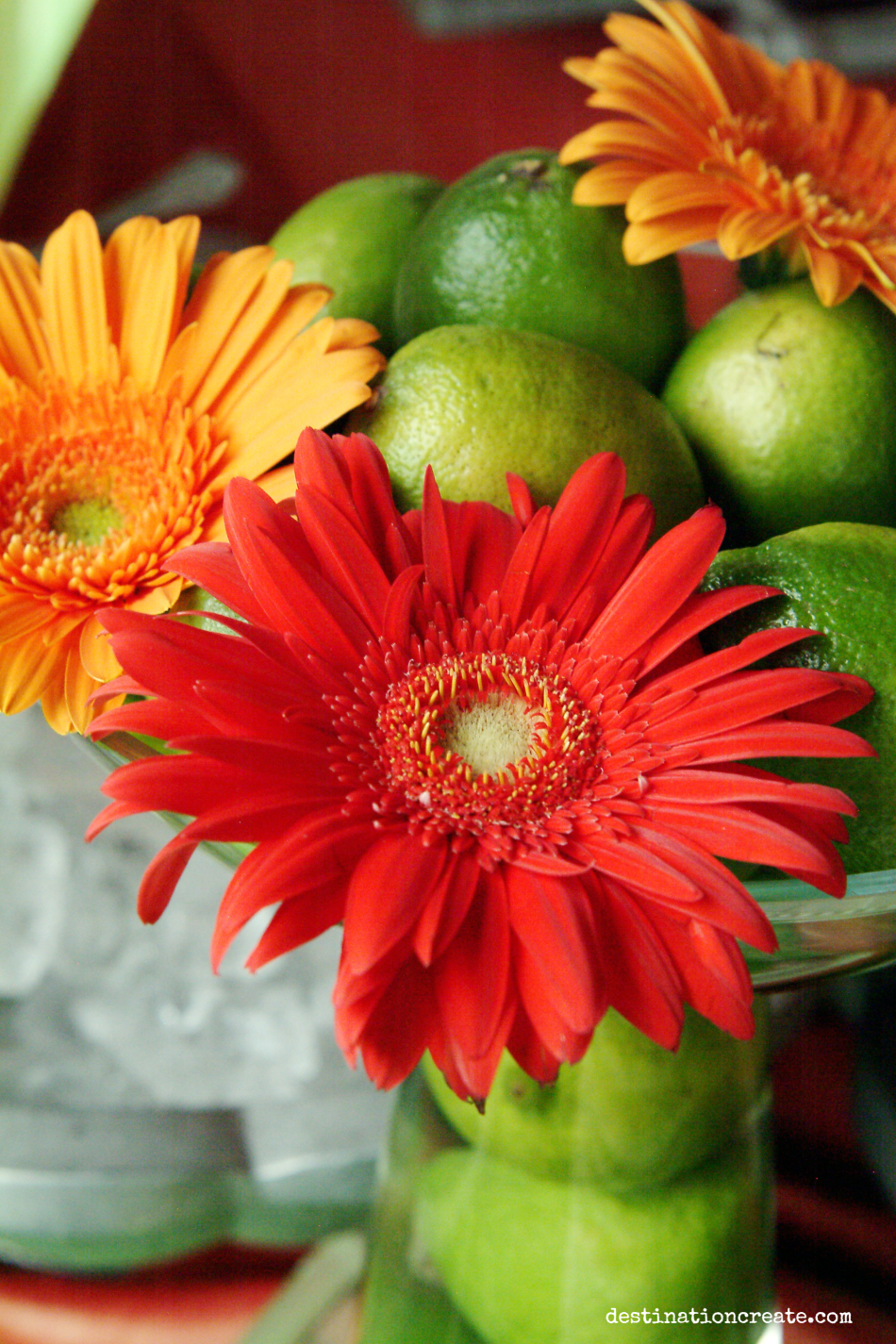 In this next version there are quite a few more flowers; more variety, higher cost. I didn't use citrus fruits; instead I used more blooms and I added an orchid to the hollow stem of the vase.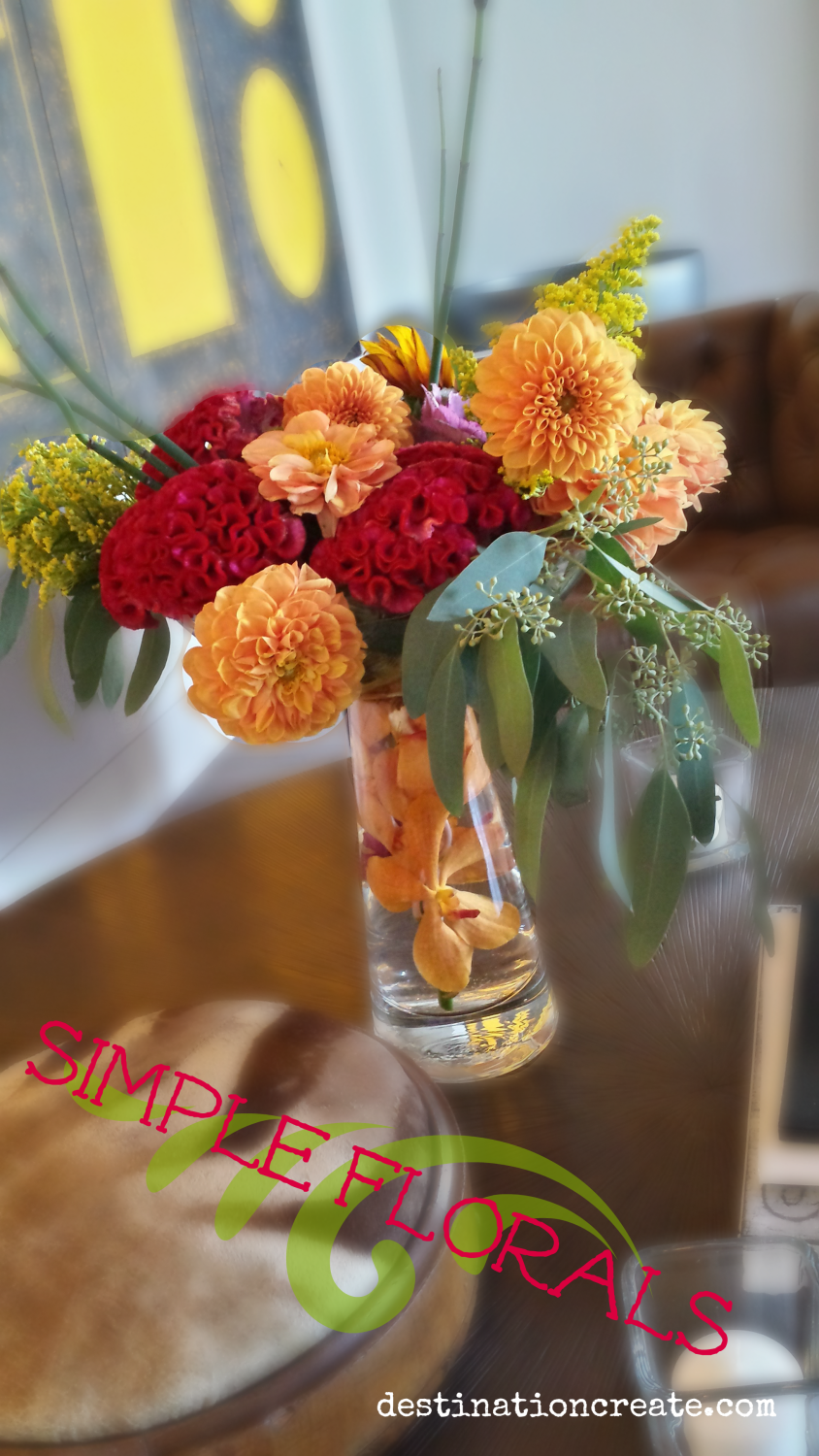 I hope this post has been helpful. I would love to hear what you think in the comments. I'll offer more ideas for  simple flower arrangements in future posts. In the mean time… buy some flowers the next time you go grocery shopping. Now you have a better idea what to do with them.
Written by Cherice Steinhour
This little +1 button tells Google you liked what you've read. Thank you!