The world needs more love letters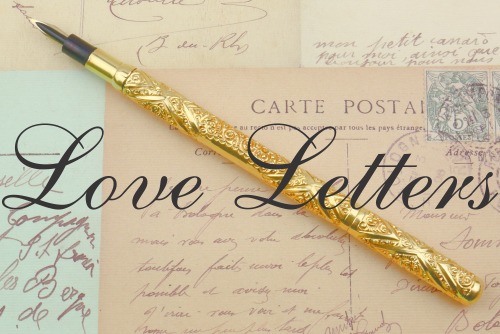 I LOVE technology and use it daily to learn, save time and increase productivity. However, I'm a little fearful of the downside, especially for the younger generation that has known nothing else but click, swipe, text and the instant gratification of FaceTime, photos and videos on our digital devices. My two-year old grand baby knows how to turn on the phone to play a game or watch a movie… sheesh! My English teacher friends deal with students with short attention spans who don't know how to write or communicate well. Supposedly social media has made the world much smaller and our connections greater, but have we lost the joy of personal connection a bit? I wonder.
I am always amazed at how ONE person can change the world… It's a very big world, but one person can leave their mark. I saw a story on TV the other day that really touched me. In 2010 a young woman, Hannah Brencher, found herself after college living in New York, feeling very alone and suffering from depression. She started writing about her feelings in a notebook. Those writings soon morphed into letters directed toward the other lonely people she saw on trains and around the city. Soon she began writing love letters and leaving them all over the city, tucked into places where unexpectedly someone would find the letter and be uplifted by its words. On the envelope she would write " If you find this letter then it's for you".
Take a moment and watch a bit of an interview with this remarkable young woman.
 World Needs More Love Letters from Justin Marantz on Vimeo.
Talk about a random act of kindness! After leaving 400 letters around the city, Hannah's one-woman movement grew into a global initiative where you can request letters for an individual who needs them and you can volunteer to write letters. To date 60,000 letters have been delivered on 6 continents…WOW! What really strikes me about all of this is the profound lesson there is to be learned about looking outside of yourself when you are struggling. We lift ourselves up by lifting others. We all need to be reminded of this when life is hard for us.
It's been quite a while since I sat down and wrote a love note. I guess I need to go back and read my OWN post about Love Notes as a gentle reminder that love needs to be said, not just shown, and a love letter or note is always appreciated.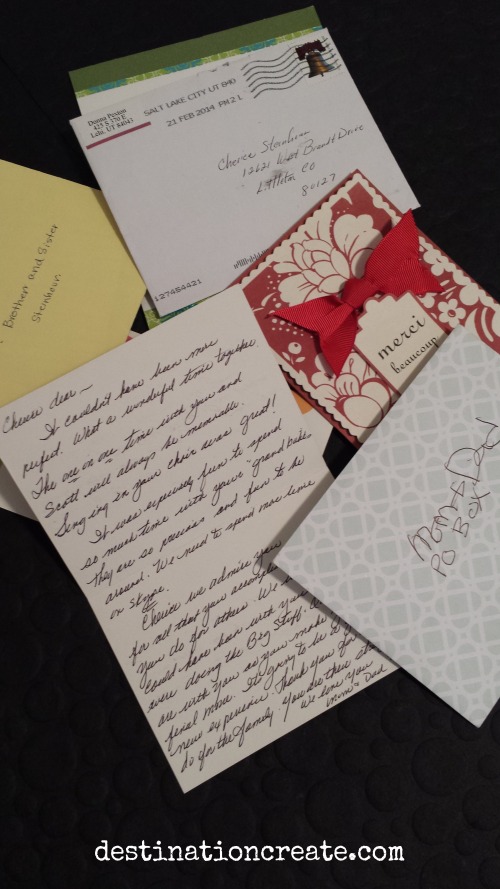 Over the years I have received many lovely notes from friends, family and even casual acquaintances. Some were thank you notes and others were expressions of appreciation, love and concern. I keep the best ones in a special box. Some of my favorites are from my dear friend Trish. Sending handwritten notes is her "thing" and she is GOOD at them. Trish is a wonderful wordsmith and I treasure her many kind words to me. I never need to worry about what to give her for her birthday either because fun stationery is always perfect.
When you hear a great talk or musical number at church it would be so lovely to let that person know how they touched you with a handwritten note… not a text, not an email. There is a unique power in the written word. Is the art of a heartfelt thank you note dead? I hope not! Let's all commit to writing thank you notes when we've been invited to dinner, received a thoughtful gift or been at the receiving end of service or a compassionate gesture. I hope our children and grand kids are being taught and encouraged to write thank you notes and love letters.

For you young Mothers that would like to give your kids away some days, let me give you some hope. One of my most cherished letters is from my second daughter when she went a way to college. She wrote a wonderful thank you letter, expressing gratitude for all the sacrifices my husband and I had made and for everything that we had done for her and taught her. Tears! What a thank you note! Yours will come someday too.
One way to make your handwritten letter even more special is to use a self-inking

personalized stamp

for your return address on the envelope.
The world DOES need more love letters and one person CAN change the world!
Some final thoughts from some great minds:
The power of a handwritten letter is greater than ever. It's personal and deliberate and means more than an e-mail or text ever will. It has a unique scent. It requires deciphering. But, most important, it's flawed… Ashton Kutcher
And none will hear the postman's knock without a quickening of the heart. For who can bear to feel himself forgotten? …W.H. Auden
What a wonderful thing is the mail, capable of conveying across continents a warm human hand-clasp… Author Unknown
To send a letter is a good way to go somewhere without moving anything but your heart… Phyllis Theroux
What a lot we lost when we stopped writing letters.  You can't reread a phone call…Liz Carpenter
Letters are among the most significant memorial a person can leave behind them… Johann Wolfgang von Goethe
And one last plea from our friend Charly Brown: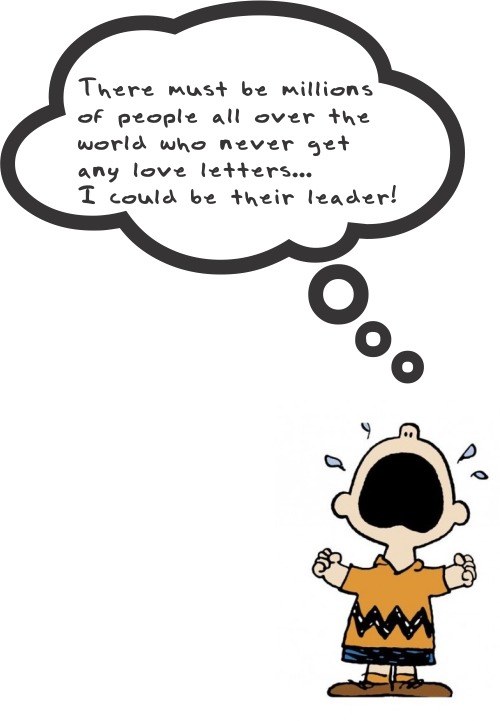 What's your favorite letter that you've received?
How long has it been since you've written a love note or letter?
Need a pen?
---

Make your letter even more special with a personalized self-inking stamp that can be purchased here. The stamp will also save time!
---
Written by Cherice Steinhour
Comments are always welcome!
Click this little +1 button to tell Google you like what you read. Thank you!
Disclosure of Material Connection: Some of the links in the post above are "affiliate links." This means if you click on the link and purchase the item, I will receive an affiliate commission. Regardless, I only recommend products or services I use personally and believe will add value to my readers. I am disclosing this in accordance with the Federal Trade Commission's 16 CFR, Part 255: "Guides Concerning the Use of Endorsements and Testimonials in Advertising."