When you click on a Task, a window will open with a Notes section. See the pink hand

.

This is where you can put more details or a mini task list breaking up the main task. This window is also where you will change the date that a task is due. You can also click n drag tasks to a different day when you are in a view other than day view. This is also where you can delete the task, move the task to a different list or mark the task DONE. I just like to delete finished tasks so I don't have to deal with the visual clutter of all those check-marked tasks.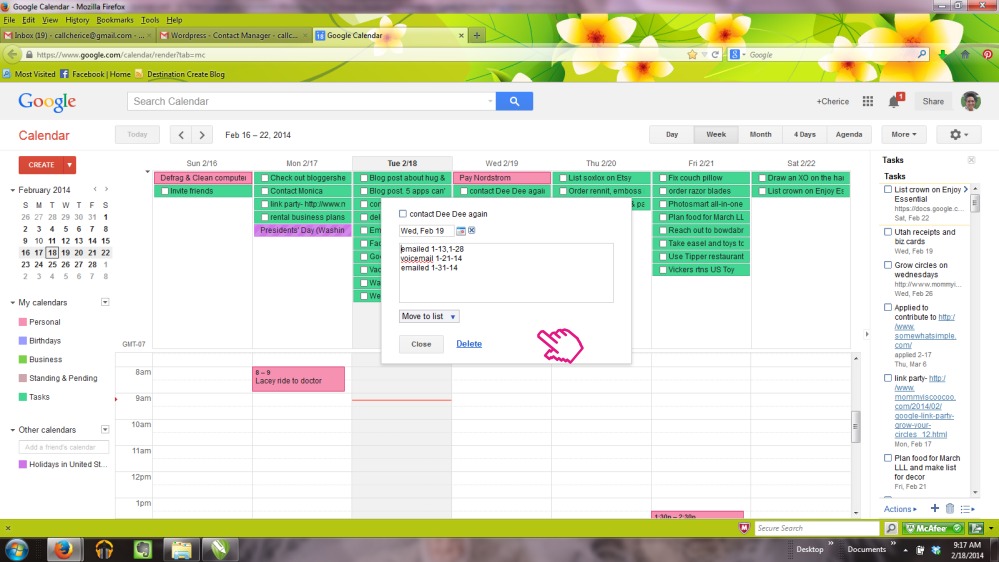 For those of you that are simply more comfortable with a paper task list I highly recommend the Franklin Planner system. Don't go running around trying to find the best one at your local office supply store. Just click below for the best selection from the original source.
Click Here:
---
That's it then. I think I've covered the mechanics of To-Do Lists using Google Tasks pretty well.
The next post covers which mobile Apps I use to sync with Google Tasks and how I use To Do Lists to plan ahead and keep me organized.
If you would be interested in a webinar where I could demonstrate these ideas please shoot me a Comment or an email. I would love to hear from you.
Now excuuuuuse me…but I need to get to the next item on my To-Do List!

Comments are always welcome!
Click this little +1 button to tell Google you like what you read. Thank you!
Some of the links in this post are affiliate links. If you buy the product I'll receive a small commission… yes I have bills just like you:) Thanks for your support!